4 Ways to Signal to Google that You're an Expert Content Creator
[Free Consultation] Are you spending money on advertising but not getting the results you want? Are you looking for more sales and leads but have no idea where or how to start? Get help from our world-class marketing experts in a free consultation call.
Click Here To Schedule Your Free Consultation Now
As an SEO, you know that Google constantly changes. The list of "best practices" that worked in 2012 are dead and gone, and there are bucketloads of changes with each year that goes by.
The only tricky part?
Google doesn't reveal its algorithms. And though they update the algorithms often, they don't always reveal what exactly the updates are — or when they're coming out.
So a big part of the SEO industry involves figuring out what these updates are and revising best practices to take advantage of them in order to optimize a brand's web presence and make sure they don't incur penalties from Google.
At worst, a site can be removed from the Google index and not show up in search results at all. The ranking power you've been building over years suddenly disappears.
Not to worry! In this guide, we'll discuss a recent Google algorithm you'll need to keep an eye on and why this so-called "Phantom Update" influences your entire content marketing strategy.
Check out: How to Prepare Your Site for the New Google Page Experience Update
What Is the Phantom Update?
As we've already discussed, Google rolls out algorithm updates frequently and unexpectedly.
When the Google algorithms were simpler, tricks like keyword stuffing and other "black hat" techniques worked to get a website high in the rankings.
But the first major update, Penguin, turned the SEO world upside down. Suddenly techniques that had worked for years were obsolete, and websites dropped in ranking — or were penalized right out of the SERPS altogether.
Since then, each update, coupled with machine learning and artificial intelligence advances, has changed the way Google evaluates content.
The 2015 Phantom Update got its name because at first Google would not admit it happened. They buried their head in the sand and didn't acknowledge the changes in their algorithm.
But since then, Gary Illyes, a Google Webmaster Trends Analyst, has stated that "Phantom" updates simply mean a broad change to Google's entire ranking algorithm: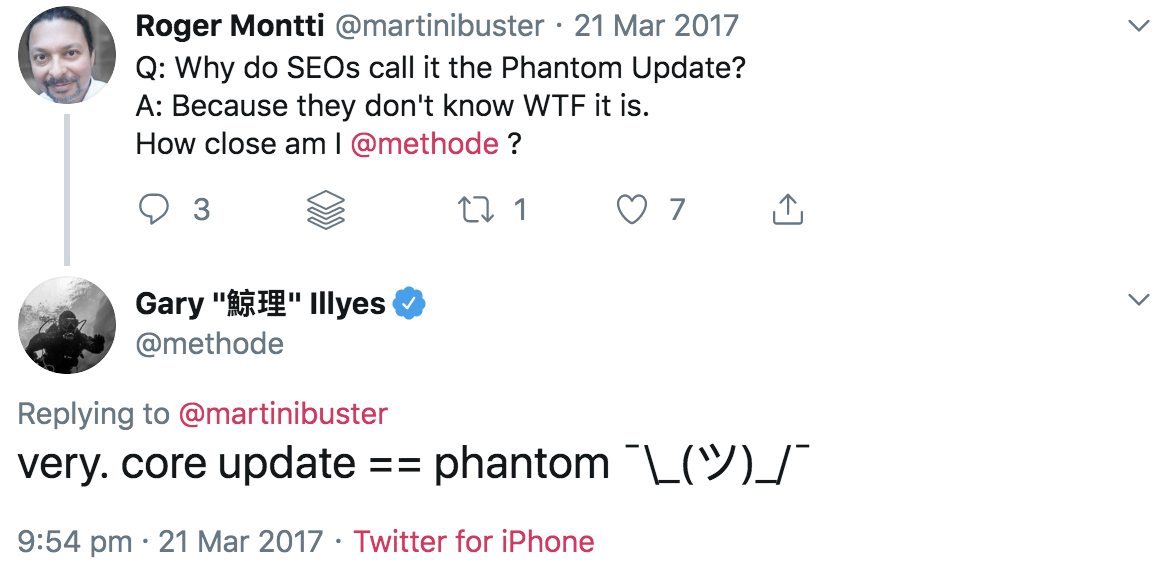 However, there's one interesting thing we missed in this story.
Shortly after the first Phantom Update was released, a copy of Google's Search Quality Evaluator Guidelines got leaked, and they responded by releasing the whole document in November of 2015.
The document explained that besides evaluating user experience and penalizing sites for excessive pagination and annoying pop-up ads, Google is also looking at who wrote the web content.
In other words, they want to know: Does the writer of each piece of content actually know what they're talking about?
Dive Deeper:
* What Is the Google BERT Search Algorithm Update?
* What Is Content Decay and How It Affects Your SEO
* Google's Search Quality Rater's Guidelines [infographic]

How to Create Expert Content with the E.A.T. Principle
Because Google's Phantom Update looks at the person behind any piece of content, they needed a quick method to determine the quality of any web page.
That came in the form of E.A.T.:
Expertise: The page needs to have quality content written by an expert writer with proven experience, knowledge or qualifications.
Authority: The site itself needs to have some authority on the subject.
Trustworthiness: The site needs to have other authoritative links pointing to it from similar, trusted websites in their industry.
But what exactly constitutes an expert writer? And, with Google's former AuthorRank essentially defunct, how do you signal to Google that you're an author who knows what you're talking about?
Here are four things you can do to demonstrate to Google that you are an expert content creator:
1) Publish Content in Your Area of Expertise (Especially if You're a YMYL Site)
The first step to becoming an expert is to write in your area of expertise. But what makes you an expert? Will Google check Harvard files to verify that you're a professional lawyer before praising your content with page one rankings?
Not necessarily. Google actually explains in their General Guidelines handbook:
"High [quality] medical advice should be written or produced by people or organizations with appropriate medical expertise or accreditation… [and] should be written or produced in a professional style and should be edited, reviewed, and updated on a regular basis."
And keep in mind that hobby sites "such as photography or learning to play a guitar, also require expertise."
An article that provides investing advice, for instance, should be written by an accredited financial advisor or experienced professional — just as medical advice should be written by a doctor or other health care professional. Legal advice should likewise be written by someone with verifiable legal expertise.
This category of content is referred to as Your Money or Your Life (YMYL) pages, and include:
News and current events: news about important topics such as international events, business, politics, science, technology, etc. Keep in mind that not all news articles are necessarily considered YMYL (e.g., sports, entertainment, and everyday lifestyle topics are generally not YMYL). Please use your judgment and knowledge of your locale.
Civics, government, and law: information important to maintaining an informed citizenry, such as information about voting, government agencies, public institutions, social services, and legal issues (e.g., divorce, child custody, adoption, creating a will, etc.).
Finance: financial advice or information regarding investments, taxes, retirement planning, personal loans, banking, or insurance, particularly webpages that allow people to make purchases or transfer money online.
Shopping: information about or services related to research or purchase of goods/services, particularly webpages that allow people to make purchases online.
Health and safety: advice or information about medical issues, drugs, hospitals, emergency preparedness, how dangerous an activity is, etc.
Groups of people: information about or claims related to groups of people, including but not limited to those grouped on the basis of race or ethnic origin, religion, disability, age, nationality, veteran status, sexual orientation, gender or gender identity.
Other: there are many other topics related to big decisions or important aspects of people's lives which thus may be considered YMYL, such as fitness and nutrition, housing information, choosing a college, finding a job, etc. Please use your judgment.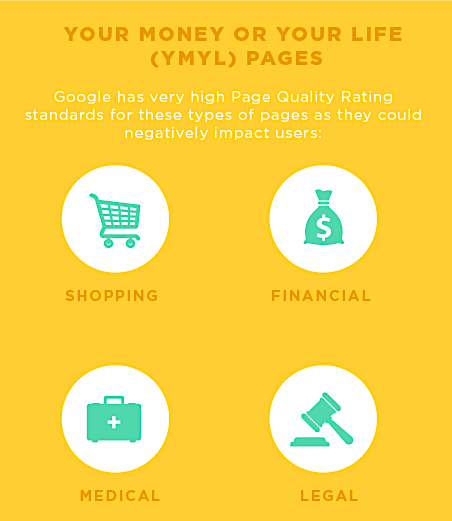 Google says that the reason for carefully monitoring this is because:
YMYL pages "could potentially impact a person's future happiness, health, financial stability or safety" — which is why someone with genuine knowledge needs to be writing it.
On the other hand, movie, book or restaurant reviews can be written by almost anyone, as long as the review is informative and well written. It doesn't have a major impact on a reader's life, no matter how much a restaurant doesn't live up to their 5-star reviews. 😉
So if you're writing about YMYL topics, you need to be seen as an expert by Google. The most effective way to do that is to share your expertise online, and allow Google's spiders to connect the dots between lots of knowledgeable content on the same topic.
Start doing this on your own website. Why? Because that's the domain you want to succeed in Google's rankings. No matter how many backlinks you land or user experience tests you run, if your site isn't authoritative, it won't rank.
Take a look at Intercom, for example. They're a customer messaging platform and publish regular, in-depth content around that topic on their blog: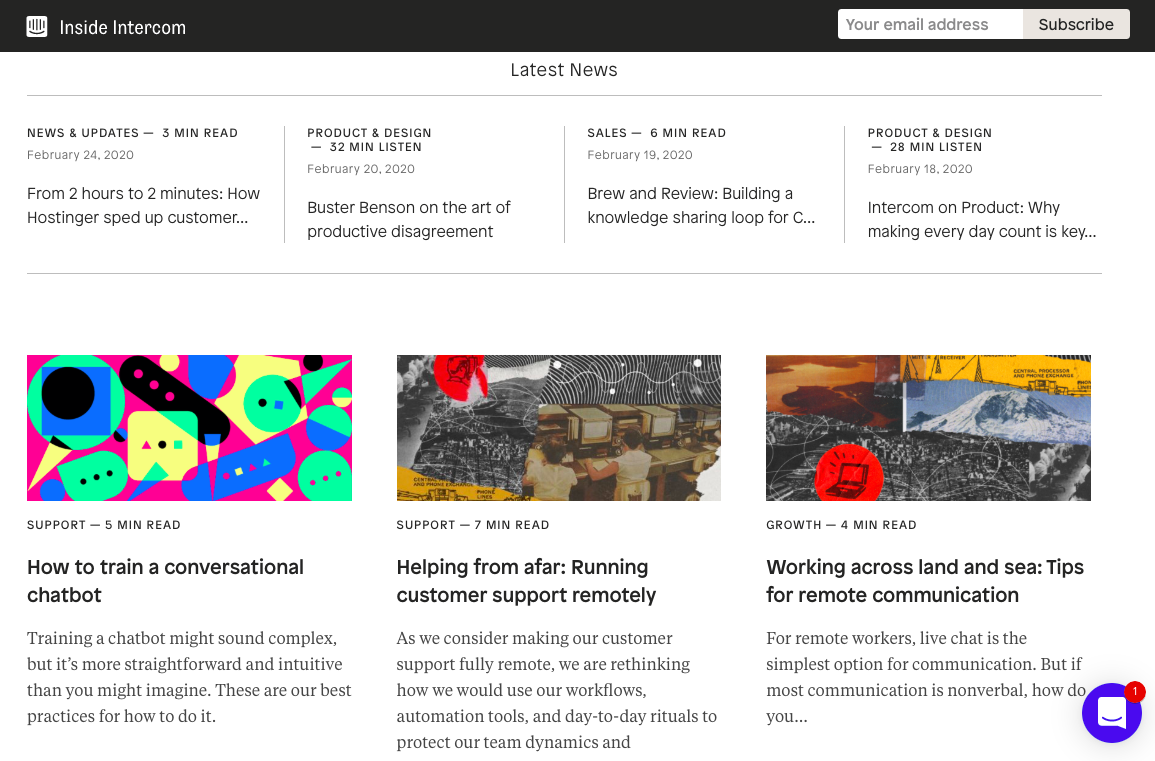 Google is much more likely to view Intercom as an expert in their industry because of this content. And, you guessed it — Intercom is rewarded for their authoritative content with over 122,000 visitors arriving to their site each month from organic search: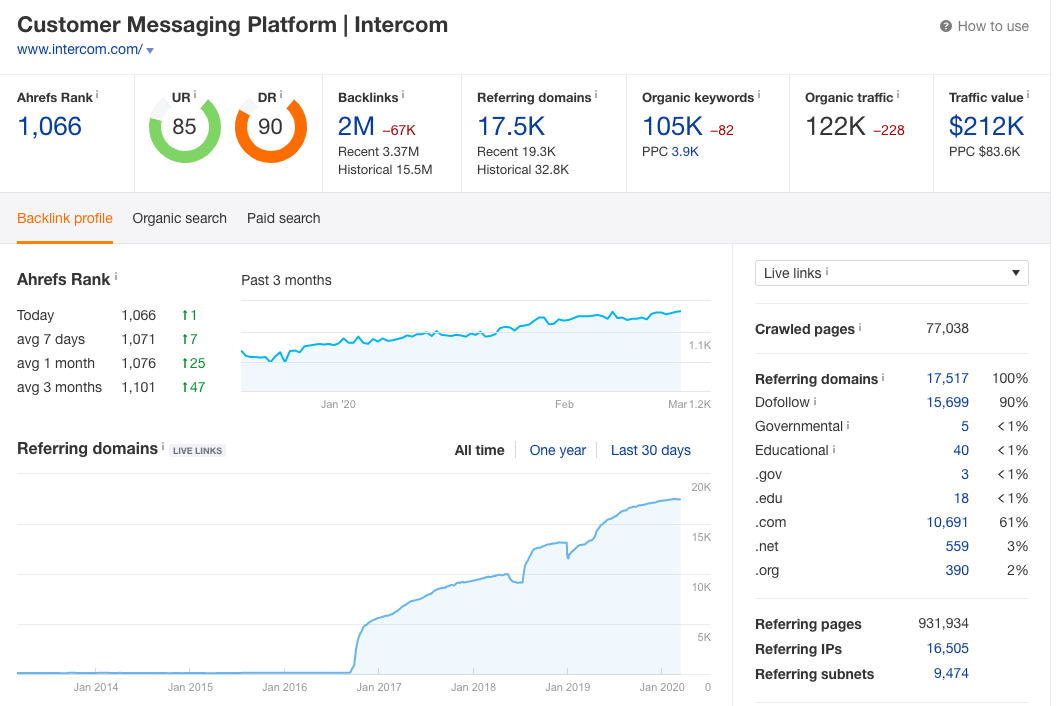 So, how do you create content that proves to Google you're a subject matter expert?
You'll need to check these 5 things off your content to-do list:
Details: Your content should provide detailed information — even if it's brief. It should include all the steps necessary to complete a do-it-yourself task, for example. A partial or "fluff" list will earn a lower ranking. (Just Google "how to…" to see for yourself.)
Value: An article must contain information of value — whether that's news, a new development or comprehensive explanations or instructions.
Well written: Content being published to your website should be engaging and well articulated, and the author should have an excellent grasp of their language.
Well edited: All content on your site should be free of typos, misspellings, misused words and punctuation errors. All these things hurt the authority of the content as well as the website and should be avoided — even if that means hiring an editor and/or proofreader for your content creation department.
Good user experience: The person arriving on your site shouldn't be assaulted with ads or pop-ups, and articles shouldn't be excessively spread out. (For example: "30 Things You Didn't Know about Hollywood. You Won't Believe Number Seven!" and then spread the content out over 30 pages to force the reader to click "next" over and over.)
It's worth evaluating your site's Domain Rating, citation flow, and trust flow using tools like Ahrefs and Majestic as you do this. Track these as your attempts to create authoritative content continue, and watch your SEO metrics skyrocket as Google begins to view you as an expert.
Dive Deeper:
* 9 Tips to Take Your Blog Content from Average to Awesome
* Beginner's Guide to Business Blogging in 2022
* Starting at the Bottom: How to Build Up Your Domain Authority from Scratch

2) Invite Authoritative Guest Bloggers to Contribute to Your Website
I know what you're thinking: "Elise, I'm happy to publish content to our blog that proves we're an expert…but I don't have time to write things, and I'm not the most experienced person in our industry."
Here's my answer: So what?
You're able to open your website up to external contributors to help build your library of authoritative content. Freelance writers, guest bloggers and experts might be happy to write a high-quality piece of content in return for a backlink. And having their name, which is already respected in the industry (and by Google) attached to your website could be the perfect starting point.
For example: Here on the Single Grain blog, we need to persuade Google that we're experts in digital marketing if we're to stand any chance at ranking for marketing-related topics.
Yet instead of creating all our content using in-house resources, we open our blog to guest bloggers who happen to be experts in the same industry — like this post on keywords by Joydeep Bhattacharya: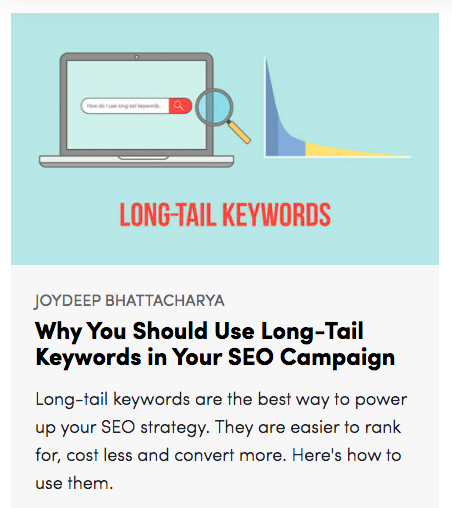 In return, Google sees an already-established marketing pro associate themselves with our website. Therefore, some of Joydeep's reputation passes onto ours, and Google begins to believe that Single Grain is a website run by marketing experts. (Which, spoiler alert: We are!)
To do this for your own website, simply put together a "Write for Us" page that details how an expert can get in touch with you, like ours: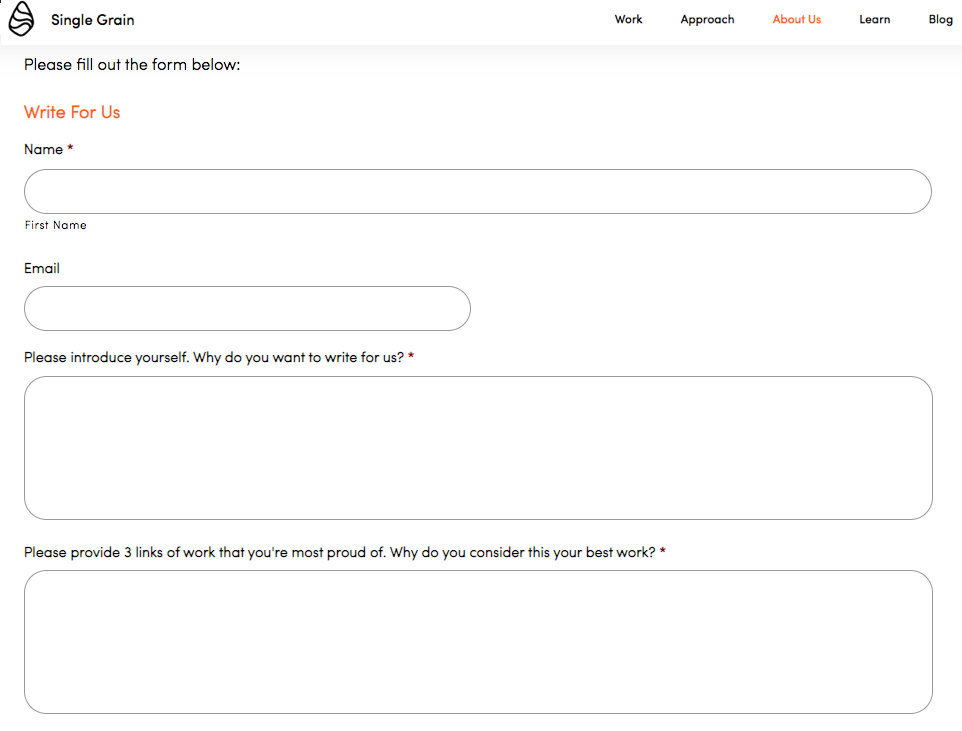 Or use a tool like Social Bakers to find experts in your industry, and ask whether they'd be interested in writing a post for your website. You might have to give a few contextual backlinks in return, but it's a sweet deal for the authoritative content with which you'll impress Google.
Dive Deeper:
* The Power of Guest Blogging (And How to Get Started!)
* 5 Types of Guest-Post Content that Support Your Link-Building Efforts
* The Most Underrated Tactic to Boost Your Search Ranking: Podcast Guesting

3) Create a Strong, Authoritative Bio Page on Your Site
You're working hard to make your website appear credible to Google. You're inviting guest bloggers to contribute and hitting the "publish" button on blog posts you're truly proud to have written.
There's one more thing you need to do to cater to E.A.T. guidelines: Create author biography pages that tie your blog posts to a real person.
Remember how we mentioned earlier that Google looks at the expertise of the person behind each blog post? The author bio pages are a simple way to showcase this expertise.
Simply write a small blurb about the author, including special (relevant) information like:
Their qualifications
The college where they studied your industry
Their job title
The company for which they work
Take a look at my author bio page on Databox's blog, for example: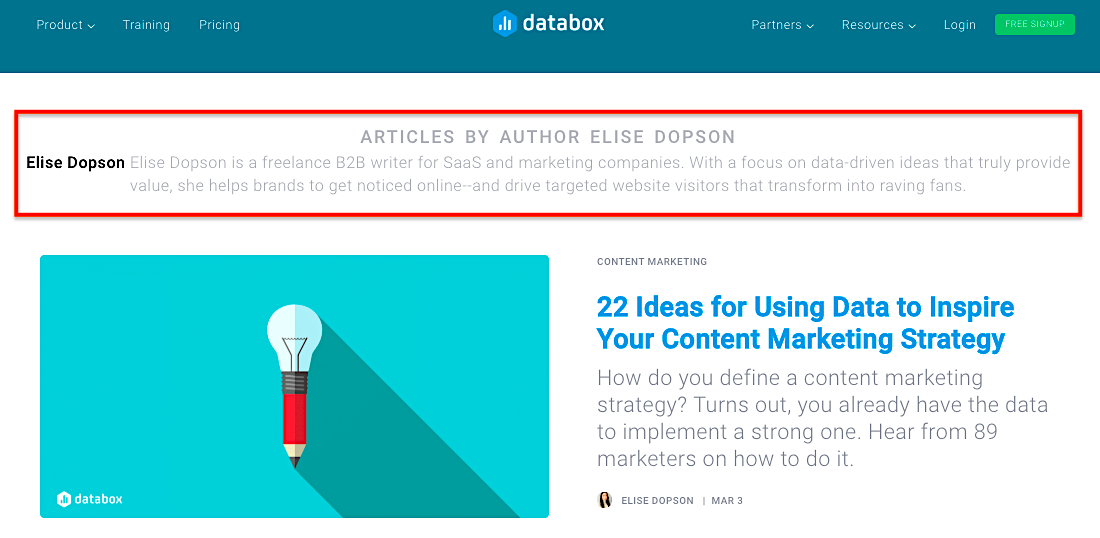 The best part? Some WordPress theme settings automatically create author bio pages for every author on your website. All you need to do is head into the page, craft a short description about the person behind your content, and allow Google to crawl it.
Dive Deeper:
* The Skyscraper Technique: How to Build High-Quality Backlinks to Your Content
* 30 Ways to Come Up with Great Ideas for Your Blog Posts
* What Is Content Decay and How It Affects Your SEO

4) Contribute Guest Posts on Industry Websites with Your Author Bio
Following on from guest blogging, you should start spreading your eggs (i.e. content) across multiple baskets (i.e. websites) to really prove to Google that you're an author who knows what they're talking about.
Google looks at the author of each page, so along with making your website more credible, your personal name needs to have a strong connection to your topic, too.
Start to find websites in your industry that are open to guest posts using one of these search queries:
[INDUSTRY] + "write for us"
[INDUSTRY] + "contribute"
[INDUSTRY] + "submit"
[INDUSTRY] + "guest post"
Then, plug the domains you find into an SEO tool like Ahrefs or Moz Link Explorer to judge whether the site is already well-respected by Google.
I'd advise aiming for sites with a DR or DA of over 40:

Carefully follow the guidelines that each of these "write for us" pages includes, and work with the editors to create a highly authoritative, detailed piece about a topic in your industry.
Oh, there's just one more thing to remember when guest blogging:
Make sure you get a byline (your name) as opposed to "Guest Writer" or under an in-house writer's bio — preferably with a link back to your site.
Do this a few times each month and Google will start to view your name as an expert in your industry. Then start to branch further afield and position your name on sites like:
Final Thoughts on Google's Phantom Update
Becoming an expert content creator according to Google's Phantom Update will take time and planning. But if you've been building your area of expertise for a while, you have likely already laid the foundation for this.
(If you haven't, start right now. It's not too late!)
Google will continue to look at expert credentials for each new piece of content you post. Establishing your personal and website authority truly is the key to succeed with content marketing in 2022 and beyond.
Article update by: Elise Dopson